1/13/2017    
Rail News: Kansas City Southern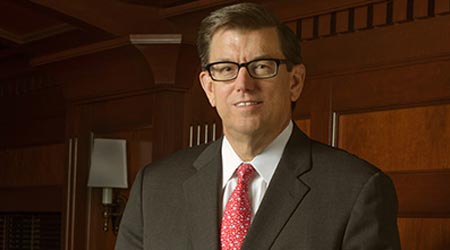 Patrick OttensmeyerPhoto – Kansas City Southern
Kansas City Southern President and Chief Executive Officer Patrick Ottensmeyer has been tapped to lead a U.S.-Mexico strategic trade initiatives working group, the U.S. Chamber of Commerce announced yesterday.
The working group is part of the U.S.-Mexico CEO Dialogue, a mechanism through which U.S. and Mexican business leaders seek to improve trade flow and economic collaboration between the two nations.
"Pat is the right person to lead this effort at an important juncture in the U.S.'s relationship with Mexico, our neighbor and third largest trading partner," said Myron Brilliant, executive vice president and head of international affairs for the U.S. Chamber of Commerce, in a press release. "He is deeply committed to advancing trade and investment between the U.S. and Mexico, and he is a recognized leader in a railroad industry that connects our highly integrated North American economy."
The working group will focus on advancing the U.S.-Mexico economic relationship by recommending private-sector solutions to bilateral trade challenges.
Founded in 2013, the U.S.-Mexico CEO Dialogue was established as a private sector complement to government-to-government dialogue on trade and economic issues.
Keywords
Browse articles on