Rail News Home
Amtrak
6/11/2018
Rail News: Amtrak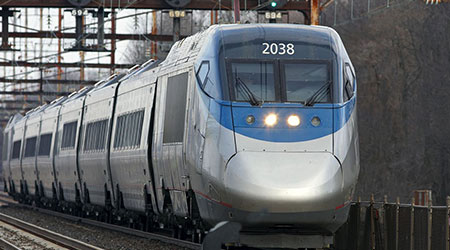 Amtrak officials have said that most ticket sales take place online.Photo – Amtrak.com
U.S. Sen. Joe Manchin (D-W.Va.) has secured language in a federal transportation appropriations bill that would ensure Amtrak employs at least one ticketing agent in every state.
Manchin lobbied for the measure after Amtrak announced it was terminating its only ticketing agent position in West Virginia. Although Amtrak sells most of its tickets online, about 30 percent of West Virginia has no internet access, Manchin wrote in a letter to Amtrak President and Chief Executive Officer Richard Anderson.
West Virginia's population "includes many working class families and elderly residents who are less likely to have a credit card or another means to purchase tickets remotely, but rely heavily on the train as an alternative to driving or flying," Manchin said.
The senator secured the language in a fiscal-year 2019 appropriations bill for transportation, housing and urban development, and related agencies.
Once the bill is passed by the House & Senate and signed by the President, @Amtrak will have to reinstate a position in the state. I will keep fighting to keep and grow jobs in #WV, even if I have to go one at a time.
— Senator Joe Manchin (@Sen_JoeManchin)
Contact Progressive Railroading editorial staff.
More News from 6/11/2018