Rail News Home
Amtrak
2/28/2019
Rail News: Amtrak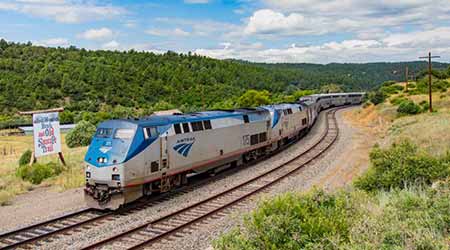 Amtrak will use the newly available federal capital funding to continue needed work on the next route segment of the Southwest Chief in New Mexico.Photo – amtrak.com
Amtrak will provide a $3 million matching grant to help upgrade track on its Southwest Chief route in Kansas, Colorado and New Mexico, the railroad announced yesterday.
The announcement follows the passage of the federal government's fiscal-year 2019 Appropriations Act, which included funding for Amtrak and intercity passenger rail.
The legislation set aside $50 million for its national network grant for improvements to the Southwest Chief route. Amtrak is using $3 million of the funds to match a $16 million grant sought by the states, counties and cities and awarded to Colfax County, New Mexico.
The grant and matching funds will result in an investment of more than $26 million, Amtrak officials said in a press release.
In 2011, Amtrak and BNSF Railway Co. began community discussions about the route's needed safety and other infrastructure improvements. Since then, more than $80 million has been committed from U.S. Department of Transportation programs, state and local governments, Amtrak and BNSF.
Amtrak will use the newly available federal capital funding in coordination with stakeholders to continue needed work on the next route segment in New Mexico. In addition, Amtrak is working on a long-term financial plan to address the route's "unique challenges," Amtrak officials said.
Contact Progressive Railroading editorial staff.
More News from 2/28/2019