Rail News Home
Safety
6/25/2018
Rail News: Safety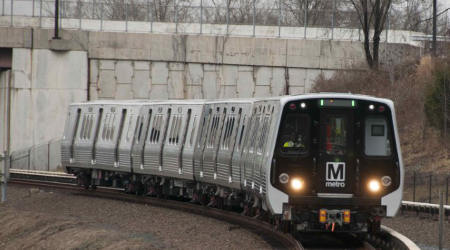 The FTA made the demand after a visually impaired rider in late May fell onto the track at the Van Ness-UDC Station.Photo – FTA
The Federal Transit Administration (FTA) late last week called on the Washington Metropolitan Area Transit Authority (WMATA) to address an "unsafe condition" created by rubber barriers between its new 7000-series rail cars.
The FTA made the demand after a visually impaired rider in late May fell onto the track at the Van Ness-UDC Station when she mistook the opening between two cars as a doorway. The passenger sustained minor injuries.
Unlike the chain barriers between other model rail cars, the rubber barriers leave as much as a 9-inch gap at the platform level, which can be mistaken for an opening and present a danger to people who are visually impaired, according to the FTA.
As a result, the FTA required WMATA to install chain-style, between-car barriers on all 7000-series cars. WMATA officials have until June 29 to submit a plan that explains how they'll install the barriers by Dec. 31, 2018.
Contact Progressive Railroading editorial staff.
More News from 6/25/2018