Rail News Home
BNSF Railway
January 2017
Rail News: BNSF Railway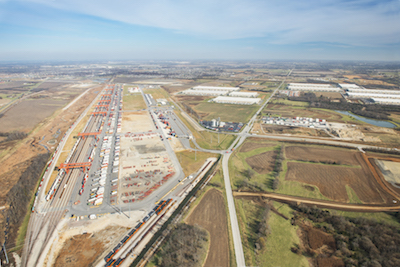 Logistics Park Kansas City is anchored by a busy BNSF intermodal terminal.Photo – BNSF Railway Co. By
Jeff Stagl
, Managing Editor For Class Is, industrial development (id) is key to generating traffic. They continually work with shippers to explore a plant expansion or evaluate transportation options that might involve transloading, all with the intent of increasing volume. The large roads also constantly seek to add new customers and traffic sources by promoting sites along their mainlines for new facilities. The typical selling points: viable rail access, close proximity to interstates, and large tracts of land that can be quickly acquired and developed.
BNSF Railway Co.
has tried to accelerate ID efforts in recent years to gain as big a business boost as possible, especially of the intermodal variety. From 2011 through 2015, the Class I each year landed more than $1 billion worth of new or expanded facilities along its lines, including $1.2 billion in 2015 and nearly $1.5 billion in 2014. And as of late last month, BNSF was on pace to surpass the $1 billion mark for the sixth-straight year, with about 100 ID projects on the 2016 docket, including several at a fast-growing, footprint-swelling logistics park in Kansas. What by all counts appeared to be another successful year is a testament to the company's ID approach in the face of 2016's sluggish economy and murky political climate, says BNSF Assistant Vice President of Economic Development Colby Tanner. "We try to engage with customers and communities. It's important to see [ID] as a partnership," he says. By proactively partnering with customers, the railroad can develop transportation solutions that enhance and improve their supply chain, says BNSF Executive Vice President and Chief Marketing Officer Steve Bobb. "We need to play the role of a trusted adviser that can help guide our customers from the initial identification of a potential development site to its design and its ultimate construction," he says. "Customer investments — which are key to connecting all types of business supply chains to our rail network — are driven by the confidence our customers have in the transportation services we provide them." BNSF aims to abide by three tenets to drive ID: collaboration, transparency and responsiveness, says Tanner. That calls for such efforts as assisting states and communities with infrastructure needs, providing detailed information on routing a domestic or international shipment, or quickly compiling a cost estimate on a new industrial siding. The railroad also strives to help potential customers identify optimal rail-served sites for a new facility — an effort boosted in March 2016 by the introduction of a site certification program — and resolve any zoning, permitting or other arising issues. "We want to have an openness with customers, and not dictate to them," says Tanner. "We try to work through issues collaboratively." A logistical approach Another vital component of BNSF's ID strategy: developing logistics centers and parks. Logistics centers offer direct rail service via manifest or unit trains in multi-customer, multi-commodity business parks that primarily target under-served and end-user markets. For example, BNSF in 2014 opened a $45 million logistics center in Sweetwater, Texas, that provides rail, truck and transload services for agricultural products, sand, pipe and aggregates transported in the crude-oil-rich Permian Basin.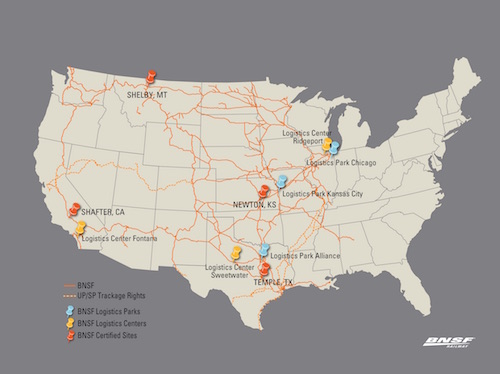 A map shows the location of the Class I's three logistics parks and three logistics centers. Source: BNSF Railway Co.
Logistics parks are strategically located to serve major markets via BNSF's intermodal network. Anchored by an intermodal facility, the parks are designed to attract distribution centers, warehouses and light manufacturing plants by offering shippers lower overall transportation costs — including drayage rates — maximized truck turns and supply chain efficiencies.
Logistics parks help attract beneficial cargo owners like Amazon, Target and Wal-Mart, since ID now tends to focus more on consumer products than agricultural and industrial products, says Tanner.
The parks make sense where there's plenty of land to develop numerous industrial sites surrounding a terminal, he says. BNSF currently has established three such parks in Chicago; Alliance, Texas; and Edgerton, Kan.
Perhaps the poster child for the parks' real estate growth and traffic-generating potential is Logistics Park Kansas City (LPKC) in Edgerton. BNSF opened the park in late 2013 with partner/master developer NorthPoint Development, a Kansas City-based real estate development, management and leasing firm.
Growing Goliath in America's Heartland
Located near Kansas City along BNSF's Southern Transcon corridor between Los Angeles and Chicago, LPKC encompasses 1,700 acres, enough land to develop 20 or so industrial buildings totaling 17 million square feet. The park is anchored by a 443-acre, state-of-the-art intermodal terminal featuring wide-span cranes and the latest in- and out-gate technologies.
The Class I's only full-service logistics park, LPKC currently is home to 10 major tenants, including Amazon, Flexsteel and Kubota. The park already is about one-third developed and has grown by an additional 200 acres — and NorthPoint Development might soon acquire more surrounding land.
To keep up with the park's exponential growth, BNSF has expanded the intermodal terminal. Designed to initially accommodate 500,000 container lifts annually, the terminal now is positioned to handle 1.5 million lifts per year at full buildout, says BNSF Director of Economic Development Darrell Coffey.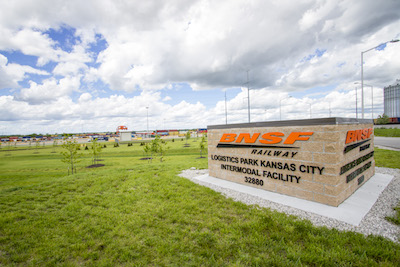 Designed to initially accommodate 500,000 container lifts annually, the intermodal terminal at LPKC now is positioned to handle 1.5 million lifts per year at full buildout. BNSF Railway Co.
The railroad last year added three wide-span electric cranes, bringing the total number of cranes to eight, and built two loading tracks and one running track. The facility features 64,000 feet of track (including eight 8,000-foot strip tracks), 1,810 paved parking spaces and 4,300 container stacking spots.
"We believe the terminal's capacity is in good shape for the foreseeable future," says Coffey.
But what's foreseeable for the moment could change quickly. LPKC is developing rapidly in part because of Kansas City's central-U.S. location and access to four major interstates: 29, 35, 49 and 70, says Coffey.
"Kansas City has more highway capacity than any other U.S. city," he says.
It also has a long history of being a major transportation hub, adds BNSF Director of Economic Development Cary Hutchings.
Yet, the land isn't just selling itself because of the park's ideal location; the Class I is playing a promotional role, as well. BNSF offers something at LPKC that's unique to business parks: direct rail service, says Coffey. North Park at LPKC features 300 acres that can accommodate rail-served facilities totaling 3.4 million square feet. Each North Park tenant will have an industrial spur at their facility that connects to the park's main industrial spur, which is attached to BNSF's mainline.
Exports an extra incentive for shippers
In addition, the railroad is touting export shipments as an additional LPKC selling point. Instead of empty containers returning to Asia or other regions from the park, they can be loaded with various outgoing commodities, such as grain or frozen meats, says Coffey.
"We have opportunities for export moves to take advantage of our heavyweight [Southern Transcon] corridor," he says.
Park tenant DeLong Co. Inc. already transports grain in containers from LPKC to the West Coast for export to Asia. In addition, ColdPoint Logistics last year began temporarily exporting frozen chicken, beef and pork from the park via intermodal. The company is building a 164,000-square-foot refrigerated warehouse at North Park that's slated to open in summer 2017, eventually making ColdPoint Logistics the first tenant in the direct-rail-served portion of LPKC.
But before BNSF and NorthPoint Development could entice ColdPoint Logistics to the park, the partners needed to work with the state of Kansas, city of Edgerton, U.S. departments of transportation and commerce, and other parties to fund the construction of an overpass/grade separation on a four-lane roadway that was crucial for the trucking portion of the export meat shipments.
The export option and developers' willingness to improve infrastructure for park tenants are draws, says Carl Wasinger, the owner and chief executive officer of Smart Warehousing, which operates two facilities at LPKC.
A warehousing and fulfillment services company headquartered in Kansas City, Smart Warehousing chose to establish offices and warehouses at the park beginning in fall 2014 because of a campus approach the firm was implementing, he says.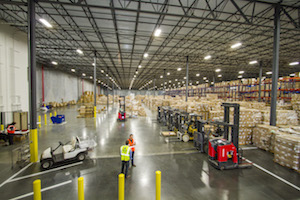 Smart Warehousing operates at LPKC in a 575,000-square-foot warehouse that opened in October 2014 and a 550,000-square-foot facility that opened last year. BNSF Railway Co.
The Edgerton facilities enabled the company to consolidate operations from five buildings it previously managed about 23 miles away in Lenexa, Kan. Smart Warehousing now operates at LPKC in a 575,000-square-foot facility that opened in October 2014 and a 550,000-square-foot facility that opened last year.
The company previously took delivery of containers in Lenexa from BNSF's former Argentine Yard terminal in downtown Kansas City.
"It took more highway time to get the products to Lenexa in containers," says Wasinger, adding that delivery problems also sometimes arose if any area highways were closed due to weather or other issues.
Now, Smart Warehousing is saving on drayage costs and gaining extra capacity at the park, he says. Since the company expands its operations by about 500,000 square feet each year, Smart Warehousing will be ready to pursue the next such project sometime in 2017, says Wasinger. And that might mean another facility in LPKC, although no decision has been made, he adds.
Municipal bond
The more park buildings, the merrier for Edgerton, says Mayor Donald Roberts. The 1,700-resident community already has benefited from 3,000 direct jobs created because of LPKC — not including seasonal help for such large tenants as Amazon — and a chunk of $1.8 million in revenue split among several taxing jurisdictions, he says.
"We now are the No. 1 site for industrial development in the Kansas City area — and that's from nothing three years ago," says Roberts.
So far, 8.3 million square feet of warehousing has been built at LPKC, and the city had anticipated 750,000 square feet to be developed each year. In addition, Edgerton officials had expected it to take up to 15 years for the park to reach 7.2 million square feet.
"So, we've beaten that already," says Roberts.
Although the pace of the park's growth has exceeded expectations, the rate of construction on area support facilities — such as restaurants, truckstops, medical facilities and staffing agencies — hasn't, which is posing challenges, he says.
However, Edgerton established two quiet zones at busy grade crossings of late, "something we couldn't have done without the park," says Roberts.
In addition, an employment center opened last year in Edgerton that helps park tenants screen and train potential hires, says Hutchings. An initial estimate showed LPKC would create 13,000 direct and indirect jobs for the state and local area at full buildout, adds Coffey.
To generate more jobs in various communities and attract more facilities around its network, BNSF last year introduced a site certification program that lists "shovel-ready" locations to hasten industrial development.
The railroad's intermodal terminal at LPKC now features eight electric wide-span cranes. BNSF Railway Co.
The railroad conducts an in-depth review of potential sites and deems those that meet 10 economic development criteria as "BNSF certified." Critical factors include property size and boundaries, proper zoning, and the availability of utilities and public services.
A customer who builds a rail-served facility on a BNSF-certified site is expected to save six to nine months in construction time because of the program, according to the railroad. So far, sites have been certified in Newton, Kan.; Shafter, Calif.; Shelby, Mont.; and Temple, Texas. Sometime early this year, more sites will be announced for the program, says AVP Tanner.
"This is a huge thing for us. It's a way to get on the railroad quicker," he says.
Since logistics parks like LPKC also are huge for BNSF's ID pursuits, establishing a fourth park is a distinct possibility.
"It's on our radar, and we're looking at it. There are places that make sense, depending on the concentration of the population and the area's growth," says Tanner, declining to cite any specific locations.
For now, the Class I's economic development executives are cautiously optimistic that 2017 will be another good year for landing ID projects. But some variables are in play that could have an impact, Tanner says.
"There are lots of challenges because of the elections and the change in the White House," he says. "And what will the regulatory environment be like? It's tough to say."
Keywords
Browse articles on
BNSF
intermodal
Logistics Park Kansas City
NorthPoint Development
Smart Warehousing