1/4/2017    
Rail News: Safety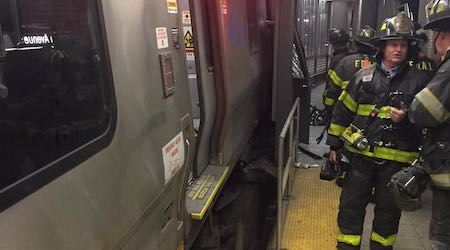 New York City firefighters arrived on the scene of the derailment.Photo – New York City Fire Department's Twitter account
[Editor's note: This story was updated at 10:42 a.m. Eastern time.]
An MTA Long Island Rail Road (LIRR) train derailed at the Atlantic Terminal in Brooklyn early this morning and injured more than 100 people.
The train failed to stop at a bumper, New York Gov. Andrew Cuomo said on Twitter, adding that there were no fatalities.
The New York City Fire Department tweeted that there were 103 non-life-threatening injuries reported at the scene of the derailment.
LIRR officials told riders to anticipate delays into and out of the terminal as a result of the incident.
Keywords
Browse articles on