1/6/2017    
Rail News: Rail Industry Trends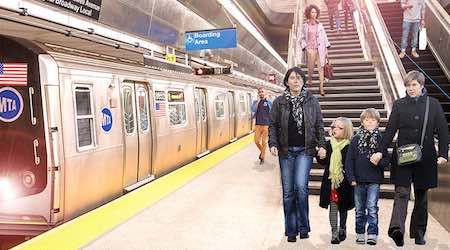 Cellular and Wi-Fi coverage will be available in New York City's subway stations early next week.Photo – Gov. Andrew Cuomo's website
Cell phone coverage in New York City's subway stations will be available Jan. 9, New York Gov. Andrew Cuomo announced yesterday.
Wi-Fi service also will be available on that date, according to a press release issued by Cuomo's office. The technologies were installed ahead of schedule under the governor's directive in early 2016.
The announcement marks an "important step" in Cuomo's ongoing plan to modernize the Metropolitan Transportation Authority, the release said.
"By bringing Wi-Fi and cell service underground ahead of schedule, we are reimagining our subway stations to meet the needs of the next generation," Cuomo said. "This will better connect New Yorkers who are on-the-go and build on our vision to reimagine the country's busiest transportation network for the future."
Transit Wireless is working under a 27-year agreement to design, build, operate and maintain cellular and Wi-Fi connectivity in the MTA's underground stations. The company is investing more than $300 million in the project and will share revenue derived through the services with the agency.
The project is being built at no cost to local taxpayers or subway customers, according to Cuomo's release.
Keywords
Browse articles on