Rail News Home: BNSF Railway
July 2016
Rail News: BNSF Railway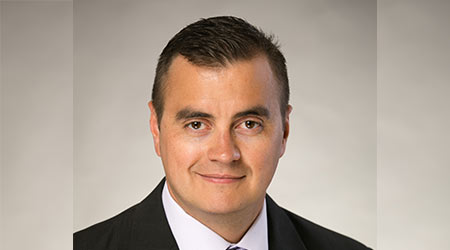 Jon Gabriel, 38
General Director Transportation, Powder River Division
BNSF Railway Co.
By Julie Sneider, Senior Associate Editor
Gary Wolf met Jon Gabriel through a family connection to the railroad industry, when Gabriel was close to completing his undergraduate degree at Oglethorpe University in Atlanta. Gabriel approached Wolf, then president of TUV-Rail Sciences Inc., to inquire about a possible internship at Wolf's company.
"Although [Gabriel] was pursuing a business degree, and we were principally an engineering firm, I wasn't sure about the fit," wrote Wolf, who nominated Gabriel for the Rising Stars Award.
But Wolf knew Gabriel's father had worked in the engineering department of several railroads.
"I knew Jon came from a good legacy," said Wolf. So, he offered Gabriel a job.
"Jon quickly adapted to a variety of rail engineering projects we were working on and did an excellent job for us," wrote Wolf. "As graduation time came, he asked me to recommend him to several railroads for a management training position."
After completing the internship and his degree, Gabriel interviewed at a number of railroads before joining BNSF Railway Co. in 2006, where today he serves as general director of transportation in the Powder River Division.
At BNSF, Gabriel started as a senior pricing analyst of consumer products in the marketing department, where he developed analytic models to measure volume and improve profitability. A year later, Gabriel was named marketing manager for domestic intermodal. In that role he helped launch a new intermodal service during an economic downturn, and created and managed new ways for the Class I to measure intermodal market share.
He's also served in roles working around BNSF's Williston Basin region, helping to drive a growth strategy in Bakken crude business, and as director of merchandise service design for the railroad's North region. In 2013, he joined BNSF's operating department as assistant terminal superintendent in Tulsa, Oklahoma. A year later, Gabriel was promoted to his current post in Gillette, Wyo., as the general director of transportation in the Powder River Division, one of BNSF's largest divisions.
Gabriel believes the diverse experiences he's had at BNSF have given him a "unique perspective" in his field leadership role.
"My experiences have helped me to facilitate teams and work groups by breaking down barriers and getting to solutions relatively quickly, all while keeping that customer focus," he says.
To explain his attitude toward life, he borrowed a phrase that his current boss often uses: "I've never worked so hard and had this much fun," he says.
"That articulates my philosophy for life and work very well, which is setting out each day to make a positive impact, connect with people and build relationships along the way," explains Gabriel.
He shares that philosophy with college students at Texas Christian University, where Gabriel earned an MBA and is often invited back to speak.
"I always tell the students that railroading is not for everyone, but if it's for you, it will certainly get into your blood," he says. "It's an industry that affords numerous opportunities: I've essentially had four careers in nine years, all at BNSF. I tell them, 'You'll never work so hard, but never have so much fun doing it.'"
Equating hard work with fun has been part of Gabriel's disposition since he was a child. When Gabriel was in the third grade, he cried when a doctor told him to stay home from school after diagnosing him with bronchitis.
The sick day broke Gabriel's perfect school-attendance record.
"The doctor told my mother he had never seen a kid react that way after being told not to go to school," he says.
Gabriel hasn't taken a sick day since.
Rising Stars 2016 Award Winners:
Bernando Ayala
Jeff Bernstein
Andrea Berry–Morris
Kristina Brevard
Matt Campbell
Allison Fayfich
Jon Gabriel
Greg Godfrey
Christopher Howard
Amanda Jones
Michael Keller
Gretchen Kostura
Jeremy Kramer
Leslia LeMaster Wilson
Mike Logan
Kylie McLaughlin
Kate O'Connor
Rapik Saat
Darin Selby
Jerry Vaughn
Keywords
Browse articles on
Jon Gabriel
BNSF Railway Co.