Rail News Home
Passenger Rail
January 2017
Rail News: Passenger Rail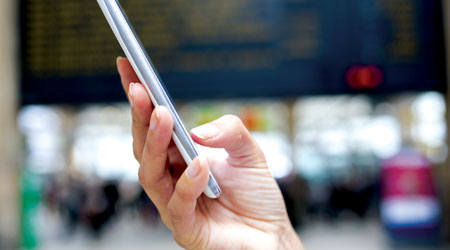 By
Daniel Niepow
, Associate Editor A technological revolution is sweeping through the U.S. passenger-rail industry. Transit agencies are developing, refining and launching mobile applications aimed at improving riders' overall traveling experiences. And the latest apps aren't just run-of-the-mill trip planners; they've evolved to enable passengers to purchase fares digitally, check real-time arrival status, connect with ride-sharing services and even report criminal activity. To accommodate these apps, agencies are overhauling their legacy fare payment systems, collaborating with tech start-ups and doing what they can to make their services as mobile friendly as possible. In Chicago, for example, riders can use the Ventra app to purchase fares for the area's three transit systems: the
Chicago Transit Authority
(CTA),
Metra
and the
Pace
bus system.
Launched in November 2015
, the app enables passengers to use their phones to load money onto their Ventra cards. The app includes mobile ticketing capabilities for Metra — a first for the commuter railroad. When the Ventra card payment system launched in 2013, riders could use the cards to purchase CTA and Pace fares, but Metra maintained its legacy fare system. Now, passengers can buy digital Metra tickets directly on the Ventra app. "This is the first time [the three agencies] have had any kind of universal fare payment system," says CTA Director of Revenue and Fare Systems Mike Gwinn, adding that such a system has long been a goal for local transit advocates. But it was a challenge to meet the needs of three different service providers, especially those that didn't have a history of close collaboration on fares, Gwinn says. Gathering feedback Another hurdle: ensuring a positive user experience. To clear it, CTA and its partners in May 2015 recruited Smart Collaborative Chicago's Civic User Testing Group to beta test the Ventra app. The group provided a pool of testers to use the app to purchase fares, manage their Ventra accounts, and check real-time arrival and departure information from their smartphones.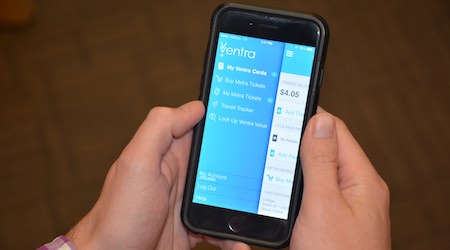 CTA, Metra and Pace launched the Ventra app in November 2015.Photo: Chicago Transit Authority
"We were able to get really good, in-depth feedback from people who think about how apps should work," Gwinn says. "They could confirm when assumptions we made were appropriate."
Currently, tickets purchased on the app account for around 10 percent of all fare sales. That number continues to increase — a trend that CTA officials welcome.
"The more people we can get on the app, the fewer will be putting cash into the vending machines," says Gwinn. "I'd love to drive as many people as possible to the app."
In addition to cutting costs associated with cash handling, mobile ticketing can help reduce fare evasion.
"Making it easier for people to buy tickets removes that casual evasion activity," says Jonathan Donovan, head of product at Masabi, a mobile ticketing company. "If people can buy tickets anywhere, anytime, at any point — even if they're effectively running to catch the train — it just means there's no excuse for not paying fares."
Masabi's JustRide platform powers Southern California's Metrolink mobile ticketing app, as well as the Metropolitan Transportation Authority's eTix app, which enables passengers to buy digital fares for MTA Metro-North Railroad and Long Island Rail Road.
What's more, agencies can use the data they collect from these apps to make appropriate service changes when necessary. RouteMatch Software Inc., which also develops transit apps, provides agencies with both operational analytics — such as when and where mobile tickets are purchased — and overall usage metrics, such as how much time riders spend on the apps.
The latter can be used to improve riders' experience on an app. For example, usage analytics can help an agency determine if users are getting stuck on certain areas of the app, or if any parts of the app are prone to crashes, says Pepper Harward, vice president of transit solutions at RouteMatch.
New developments
User feedback plays an important part in improving Chicago's Ventra app, says CTA's Gwinn.
For example, some riders want to be able to use their smartphones for all fare transactions. Since Ventra is an "open payment system," riders can tap their third-party bank cards or smartphones to pay single fares; however, if riders want to use a multi-use transit pass, they'll need a physical Ventra card.  
So, CTA and its partners are exploring the possibility of uploading the Ventra cards directly onto riders' phones, Gwinn says.
That's a move favored by others in the transit industry, says Masabi Chief Executive Officer Brian Zanghi.
"Agencies would prefer having consumers use a mobile phone over an agency-issued smartcard because the cost of that infrastructure can be much more expensive," Zanghi says.
Other Chicago-area riders had wanted to pay for multiple passengers' Metra tickets at the same time — a function that's now available.
"The biggest complaint that we get is that the app doesn't do everything that people want it to do, which, as far as I'm concerned, is a good problem to have," says Gwinn.
CTA also is exploring ways to incorporate first- and last-mile transportation services into the app. In October, the authority was one of 11 agencies to receive funds from the Federal Transit Administration (FTA) to do just that.
As part of its "mobility on demand" grant program, the FTA provided $400,000 to help CTA incorporate local bike-sharing service Divvy into the app. As of late last month, CTA was still awaiting further details about the grant and overall time frame.
Depending on rider feedback, CTA and its partner agencies may incorporate additional ride-sharing services, as well.
Leaders at the Tri-County Metropolitan Transportation District of Oregon (TriMet) share a similar aim. The Portland-area transit agency, which received a $678,000 grant through the FTA's mobility-on-demand program, plans to add shared-use mobility options like Uber and Lyft to its existing Open Trip Planner platform.
Although the FTA grant won't go toward TriMet's actual app directly, the money will be used to improve and expand the Open Trip Planner platform, which transit apps can use to provide route options for riders.
"Our aim is to not only benefit riders in local areas, but to create a model that communities can replicate nationwide," says TriMet spokeswoman Angela Murphy.
Kicking it up a notch
Valley Metro, which serves the Phoenix metropolitan area, also received funds through the FTA program. The agency was awarded $1 million to improve its Ridekick® app that launched in February 2015.
As part of the upgrade, Valley Metro plans to build mobile ticketing into the app, which offers only basic trip planning at the moment. The agency has partnered with RouteMatch to design the software for the upgraded app. Valley Metro expects to roll out mobile ticketing ahead of the NCAA's Final Four championship games, which will be held in Phoenix at the end of March and in early April.
"We're motivated to get things ready and to have elements of the app completed by then," says Valley Metro spokeswoman Susan Tierney.
The future of fare payments
Could mobile apps and digital tickets eventually replace a need for cash, paper tickets and physical transit passes?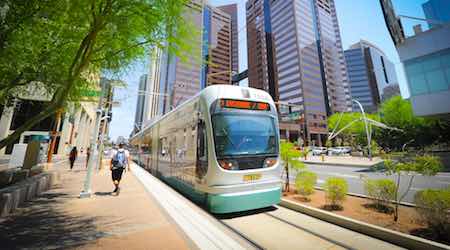 Valley Metro plans to add mobile ticketing to its Ridekick® app.Photo: Valley Metro
"There's no question that mobile ticketing is the future, but for the foreseeable future — the next five to seven years — it's definitely going to be a mix of paper and digital tickets," says RouteMatch's Harward, adding that eliminating all cash payments would exclude riders who don't have bank accounts or credit cards.
In the meantime, agencies are reaping cost-saving benefits as more passengers use their smartphones to purchase fares.
For Valley Metro, mobile ticketing will be the first phase of Ridekick's improvements. The next phase: incorporating ride-sharing services like Lyft and Uber.
"That's going to be very appealing because it will help people get to and from a bus stop or train station," Tierney says. "It also will help us with understanding the types of trips people are making."
The app's second phase is slated to launch in September, says RouteMatch's Harward.
The app developer also is exploring a loyalty program that would illustrate the environmental impact of traveling by train or bus. For example, the program could total passenger miles traveled and estimate how much riders decreased their carbon footprint.
"Riders want to be engaged more in the impact of their decision to ride transit," says Harward.
Future iterations of the Ridekick app could include location-based deals with nearby businesses.
"The purpose of that wouldn't be to overwhelm riders," Harward says. "But there may be some meaningful or valuable deals or coupons based on riders' locations."
Improving security
In addition, Valley Metro plans to incorporate safety- and security-related functions into the app. For instance, riders eventually will be able to use the app to contact security personnel about non-emergency incidents.
Security already is part of the Regional Transportation District of Denver's (RTD) mobile app strategy. The agency a year ago unveiled the Transit Watch app, which allows riders to snap photos of any suspicious activity.
Transit Watch currently has about 6,000 users, and the agency receives an average of five to eight calls a week through the app, says Bob Grado, RTD's transit police commander.
"The app is better than texting because it preemptively asks all the pertinent questions, so when the user hits send, our dispatchers have all the necessary information immediately," he says.
RTD plans to release an updated version of the app that will allow the public to send messages in multiple languages.
To develop the app, the agency partnered with the Brass Star Group LLC, which recently worked with the Los Angeles County Metropolitan Transportation Authority to launch a similar security app known as L.A. Metro Transit Watch.
Whether to bolster security programs or expand fare payment options, mobile apps continue to play a key role in transit agencies' customer service strategies.
"The exciting thing about the app landscape is that it's always changing," says CTA's Gwinn. "There will be enhancements we don't know about yet, but we'll continue to innovate."
Email questions or comments to daniel.niepow@tradepress.com.
Keywords
Browse articles on
mobile apps
passenger-rail apps
transit apps
Internet of Things
IoT
Chicago Transit Authority
CTA
Ventra
Ventra app
Mike Gwinn
Masabi
Jonathan Donovan
Brian Zanghi
Valley Metro
Ridekick
Susan Tierney
TriMet
Angela Murphy
OpenTripPlanner
Mobility on Demand
FTA
RouteMatch Software Inc.
Pepper Hardward