1/31/2017    
Rail News: Passenger Rail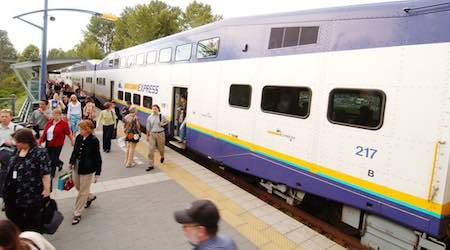 West Coast Express riders disembark from a train.Photo – TransLink
In 2016, TransLink logged 385 million boardings, marking a new record for the agency, which serves Vancouver, British Columbia.
The 2016 ridership represents a 4.5 increase from 2015's record ridership of 363 million boardings, TransLink officials said in a press release.
Agency officials attributed the ridership boost, in part, to Vancouver's economic growth. The area had Canada's fastest-growing metropolitan economy in 2016 and is experiencing its lowest unemployment rates since the 2007-08 economic downturn, TransLink officials said.
"Ridership is one way we measure our success as a transit agency, and increasing the number of people on our system is something we've set as a core priority," said TransLink Chief Executive Officer Kevin Desmond. "The 2016 numbers show us there is strong demand for public transportation options."
TransLink operates four main modes of transportation: the Skytrain rail system, West Coast Express commuter rail, Seabus and Coast Mountain Bus Co. services.
Ridership figures are one of 30 performance measures that appear on TransLink's new "accountability center" site, which launched late last week. The site also features TransLink's on-time performance, as well as metrics on customer satisfaction, safety and fiscal management.
Keywords
Browse articles on