1/26/2017    
Rail News: Passenger Rail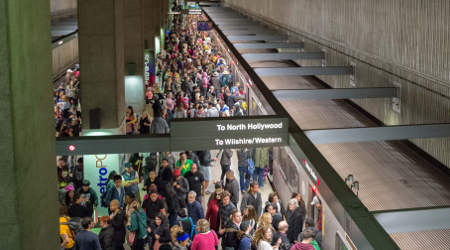 L.A. Metro's reported 592,000 passengers rode its rail systems on Jan. 21.Photo – L.A. Metro's blog
The Washington Metropolitan Area Transit Authority (WMATA) rail system logged its second busiest day as a result of the Women's March on Washington, D.C., on Jan. 21.
The agency recorded 1,001,613 entries into its Metrorail system that day, WMATA General Manager and Chief Executive Officer Paul Wiedefeld said in a statement.
That figure was second only to ridership for President Barack Obama's inauguration on Jan. 20, 2009, when the system reported 1,120,000 trips.
Ridership on Jan. 20 — the day of President Donald Trump's inauguration — came in at 570,557 trips, a WMATA spokeswoman said via email.
"We can all feel proud of providing safe, reliable service for large numbers of riders over two consecutive days on a world stage," Wiedefeld said, referring to Trump's inauguration and the subsequent march. "This success is especially impressive given the monumental challenge of sustaining such an operation over back-to-back days, along with the logistical challenges that come from national special security events."
Meanwhile, the Los Angeles County Metropolitan Authority (Metro) reported 592,000 passengers rode its rail system for the Women's March in downtown L.A. on Jan. 21.
On a typical Saturday, the system serves 360,000 fewer passengers, Metro officials said in a press release.
On some Metro lines, rail cars were crowded and many were at capacity, while most downtown L.A. stations were filled.
And in Seattle, Sound Transit logged 80,000 light-rail boardings for a similar Women's March event, marking the highest Saturday ridership to date for the agency's Link light-rail system.
On a typical Saturday in December 2016, the system served an average 39,000 light-rail riders, Sound Transit officials said in a press release.
Keywords
Browse articles on